Golf is an equipment sport. Whether you are an amateur or professional, getting the right grips makes all the difference in your swing. If you want to maintain your swing consistently, you had better find the right fit for your hand size.
Below, we have reviewed 5 of the best collection of golf grips to get your game to the next level in 2023. This also including pros and cons for each. Additionally, you can buy any of these grips from Amazon.
Product
Golf Pride MCC New Decade MultiCompound Grip Sporting goods
Golf Pride Tour Wrap 2G Golf Grip
Winn Set of 9 or 13 EXCEL WRAP MIDSIZE Golf Grip 6715W
Golf Pride MCC New Decade MultiCompound Golf Grip
Golf Pride Tour Velvet 360 Golf Grip
Product Image
Product
Golf Pride MCC New Decade MultiCompound Grip Sporting goods
Product Image
Product
Golf Pride Tour Wrap 2G Golf Grip
Product Image
Product
Winn Set of 9 or 13 EXCEL WRAP MIDSIZE Golf Grip 6715W
Product Image
Product
Golf Pride MCC New Decade MultiCompound Golf Grip
Product Image
Product
Golf Pride Tour Velvet 360 Golf Grip
Product Image
1. Golf Pride MCC Plus4 Golf Grip
The MCC Plus4 golf grip is undoubtedly the best all-rounded equipment that you can get your hands on. It is primarily meant for low-handicappers but is also quite vaunted for by most golfers, generally.
The compound material used on the grip makes it functional rather well for both hands with no need to worry about slipping. The MCC Plus4 is an ideal grip if you are looking to give yourself a swing advantage on the course.
Features
Has excellent texture that helps with producing the intended performance.
The composite material provides a good balance of softness and durability.
The material can be used in all weathers, making the MCC Plus4 just as grippy even when its wet.
Pros
The MCC Plu4 is amongst one of the most durable golf grips.
The texture material provides excellent grip and stability.
It allows you to tweak the pressure from either hand without sliding.
Cons
It is primarily meant for low-handicappers advanced golfers who are refining their technique as opposed to learning.
The MCC Plus4 is quite costly and might dissuade beginners with its short intervals of replacement.
2. Golf Pride Tour Wrap 2G Golf Grip
This is one of the most popular grips in the golf-verse. The Tour Wrap 2G spots a classic look that exudes much of its hybrid build.
A pebbled surface gives a golfer an enhanced feel of their club. This allows them to have detailed feedback from their grip, subsequently improving their performance.
Features
Elevated ridge at the bottom allows for repeatable hand placement.
Pebbled surface boosts control and stability.
Alignment technology that helps to keep the club square at address.
Pros
The textured ridge is enables a golfer to control the club easier, as well as easing repeatable hand placement.
The hybrid construction allows for firm grips without inadvertent slips and slides.
It is reasonably durable.
Cons
The Tour Wrap 2G is not optimized for all weathers.


3. Winn Excel Wrap Golf Grip
The Winn Excel Wrap Golf Grip has won the hearts of both amateur and professional golfers. It has a cushioned feel that allows for fairly easy grip, making it very friendly for beginners.
Features
A contoured grooves that help with finger placement, hence a more stable grip when swinging.
Optimal traction even in wet weather.
The soft cushioned material is comfortable in the hand.
Pros
The contoured surface is excellent for grip and stability, hence excellent for beginners.
The Excel prevents slippage and sliding remarkably well.
Delivers consistency in performance in all weather conditions and surfaces.
Cons
Weighing at just 42 grams, the Excel is unfortunately not durable in the long-term.
4. Golf Pride MCC New Decade Golf Grip
The New Decade is meant for low and mid handicappers who are looking for a hybrid grip. It has two rubbers halves: The top is layered with a cord which offers more tackiness, whereas the bottom half has a softer texture for more control.
Features
Made from hybrid rubber composites that provide extensive durability.
Two rubber materials that provide an enhanced experience for the golfer.
Its textures allows it to be used effectively in all weather conditions.
Pros
Has a black velvet cord on the top-half for hand-body anchor.
The cord is water-resistant and offers stability for steady swings.
Cost-effective for advanced golfers who want to take their game to the next level.
5. Golf Pride Tour Velvet 360 Golf Grip
If you want a grip that gets the job done 9 times out of 10, the Tour Velvet 360 is an outstanding option. Furthermore, it is relatively easy to use with most shafts, making it one of the most versatile grips around.
While it might not be as flashy as other Golf Pride grips, the Tour Velvet 360 is a definite upgrade to any golfer who is looking for higher performance.
Features
The padded grip is shock-absorbent, thus more stable swings.
It is well-balanced, which provides impeccable alignment without worrying about slippage.
A strong build that is equally durable.
Pros
A strong grip that is stable throughout the swing.
Long-term durability.
Pocket-friendly.
Cons
It is not suitable for low handicappers.
Buying Guide for Golf Grips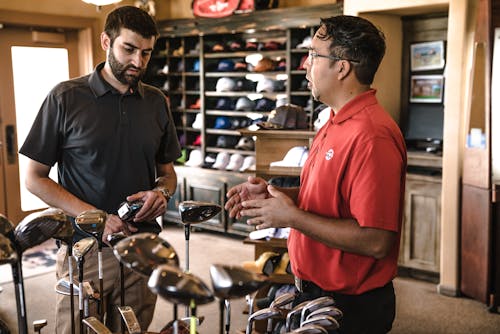 There are several factors to consider when you are looking to upgrade your set of grips, or get a new one. Most of these rely on your experiences and understanding what you seek to improve. We recommend that you must have the following in mind when looking for an ideal fit.
1. Level of Play
The build of a grip varies depending on its target demographic. An professional golfer will undoubtedly look for different features to a beginner. Hence, you must account for your current level of play and what skills you want to improve in your game.
The grip's build will also vary depending on the handicap. The slight differences in features for each handicap can be the game-changer for you.
2. Tackiness
Essentially, this refers to the feel of the grip in your hand. It entails how snugly your fingers can hold onto the grip, as well as how stable your hand is when swinging. After all, a grips primary function is to help you maintain consistent swings, thus improve performance.
Finding the ideal tackiness for you helps to prevent inadvertent slippage and sliding during swings. Nevertheless, this does not insinuate that you should find the stickiest texture on the market. You must always go for a grip that has an enhanced and firm feel in the hand.
3. Durability
Durability is all about finding the right balance between getting the most out of your grips and wear and tear. The general rule of thumb recommends using a grip for approximately 40 rounds. Therefore, a golfer should consider replacing their grip if starts slipping and sliding.
The softer the material on the grip, the faster it wears down. This means that some of the options on the market cannot withstand the standard 40 rounds. You should, therefore, keep in mind over how many rounds you intend to use the new set.
4. Performance
The performance derived from any grip certainly varies from one individual to the other. Each golfer has their own style of play. Consequently, what they would consider an ideal grip becomes highly subjective.
However, most golfers will agree that performance encompasses a grip that is reliable on the golf course while also durable in use. It then becomes a matter of evaluating which option offers you the best chances of playing at your highest level and can equally last long.
5. Build Quality
The last three factors mentioned above rely heavily on the material used to make the grip. Most golfers are looking for a grip design that offers an all-round balance of all three of them.
A well-built grip is responsive. It gives the golfer over their swing and performance. It should blend well with their hand, ensuring that they can perform at a high level consistently over a prolonged period.
6. Softness
This is one of those factors that can go both ways. A soft grip tends to wear much quicker, which then includes more frequent replacements.
For a beginner, it would be prudent to get a grip that leans more towards durability than improving performance. Therefore, the softest grip available might not be the best option to take. Conversely, professional golfers focus more on performance than durability, hence the need for softer grips.
Frequently Asked Questions (FAQ's) about Golf Grips
1. What are variations of golf grips on the market?
Generally, a grip should have a consistent and circular cross-section along the whole shaft. Furthermore, it should be widest at the top half and thinnest at the bottom, where it connects to the club. This tapering should be seamless without a "waist".
You will find the following types of grips on the market.
Rubber Grips - Typically, most grips are made from rubber, an evolution from a brief stint of leather grips being in vogue. Before that, wool grips were the order of the day.
Corded Grips - These grips have a layer of cotton fibre on top of the rubber. This offers a more enhanced texture while also improving usability in wet conditions. It can be fully corded, where the fibre is layered on top of the whole grip. For a half-cord, this done only on the backside of the grip.
Wrap Golf Grips - This variety is inspired by the outdated leather grips. The one piece of rubber is wrapped tightly around the top part of a golf club.
Lightweight Golf Grips - These are manufactured lighter than normal golf grips which improves swing speed.
2. Which grip should I go for? Firm or soft?
The answer to this really depends on your own inclinations and weather conditions, sometimes. The best grip to go for is the one that gives you the most confidence on the golf course. Normally, it is recommended to go for a grip that is inverse to you hold. If you grip your clubs firmly, then it would be best to go for a softer grip.
Take, for instance, that you are playing under hot weather, ergo sweaty hands. In such a case, you would naturally go for a grip that is firmer.
3. Which one is better? Round or ribbed?
Most of the grips you will find on the market are round since they offer the best overall grip and feel of the club.
Ribbed grips are mostly for beginners. The rib is mainly meant to help learners familiarize themselves with the alignment of the club and target line. Preferably, you should have the spine installed professionally to avoid any chance of misalignment which might be costly to your game.
5. How often should I replace my grip?
The wear and tear process of a grip is quite gradual. It might, therefore, take a while before it becomes ineffective. Ideally, you should replace your grips as soon as you notice they have become slippery or are impeding your performance.
Replacing your grips every 40 rounds is the sweet spot for both durability and performance. Using them for any longer might involve tightening your grip more to make up for the wear and tear.
6. Should I buy grips individually or in a set?
The most candid answer would be both. It would be best if you started off buying an individual grip for each of your clubs. This helps you to narrow down to the specific grip that brings out maximum performance. Once you have settled on an option, it would be sensible to then buy a set for all your clubs. This gives you consistency when practising or playing.
Nevertheless, it is would be remiss of us not to point out that there is no objectively defined path. At the end of the day, the goal is always to hold and swing a club on the golf course as confidently as you can. How you ultimately end up there is a personal path with external pointers here and there.